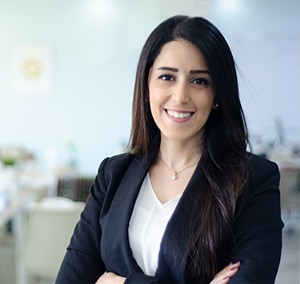 Hana Al Jabali
moayyadzf
Senior Management Consultant
Field of Specialty: Management Consulting & Strategic Planning
Hana Al Jabali is a Management Consultant with an educational background in both business and pharma, holding an MBA degree from the German Jordanian University, and a B.Sc. in Pharmacy from the Jordan University of Science and Technology. She is a proven asset in developing market research and conducting comprehensive analysis in a variety of industries including healthcare, tourism, consumer goods, as well as performing international trade assessments.
As a management consultant, Hana worked on over 20 projects so far, in Jordan, KSA, Iraq, and UAE, mostly for private sector firms. Furthermore, Hana worked on several leading public reform initiatives such as the e-services for the Companies Control Department in Jordan, the upgrading of institutional development units in the public sector in cooperation with King Abdullah II Center for Excellence, and the strategic plan for Dubai Healthcare Authorities and many others. Hana is also a certified EFQM assessor.
She has several years of pharmaceutical experience in a variety of functions and core activities including customer service, organizing and executing awareness campaigns, as well as developing educational promotional material.