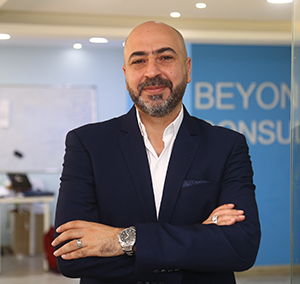 Rami Abed
moayyadzf
Managing Partner
Field of Specialty: Management Consulting & Strategic Planning
Rami holds an MBA degree from the German Jordanian University, and a B.Sc. in Business Management from Al-Zaytoonah University, Jordan, and a Diploma in Medical Lab Technology from The Royal Medical Services College. In addition to that Rami is a  certified ISO consultant, Certified EFQM Assessor, and a certified Strategic Planning Consultant from the University of Missouri, USA.
He has accrued over ten years of practical experience as Strategic Planning and Management Consultant, with proven track record in developing strategic and business plans, export market research, marketing strategies and feasibility studies in Jordan, KSA and UAE, and he  has more than 15 years of experience as organizational development specialist in the public and healthcare sectors.
He developed the strategic plans for many reputable firms such the Judicial Authority's Strategic Plan (2017-2021), Legislation Bureau of Jordan (Prime Ministry of Jordan), Institute of Public Administration (IPA), National Healthcare Strategy for King Abdullah II Center for Excellence, Jordan Heritage Revival Company (JHRC), Takeyyet Um Ali, Health Care Accreditation Council(HCAC), and Dubai Healthcare Authority, National Center for Human Rights (NCHR), in addition to developing the revised National Human Rights Plan (2016-2025) and Criminal Justice Strategy (2022-2026)
He was involved in many projects in the public sector in Jordan and KSA to improve the organization's performance and provide short- and long-term roadmaps to achieve its goals, and give recommendations to develop its organizational structure and processes
Rami is a certified trainer in the fields of strategic planning, quality management, business development and in developing Key Performance Indicators (KPIs).  Furthermore, Rami has published 4 research papers and 2 articles in the health care and quality management fields.